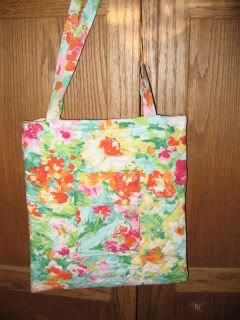 Here's a bag I made for my mom. I quilted the fabric first with a quilting bar. The squares are approximately 1 1/4 inch square. I wish it showed up better. The pocket is not quilted but has batting. The straps have no batting but are doubled with 5 rows each of stitching for some heft. The closures are Velcro on both the pocket and top. The bag is super lightweight and I like the springtime fabric I got from my stash. I have 5 yds of it for some reason and I haven't a clue where it came from.

The bag is intentionally very simple. My mom has such limited movement with just her left hand and she's right handed.

She's been using a (same style) light denim bag that I embroidered but is now looking rather ragtaggy (is that even a word??) This will hang on her wheelchair where she has easy access. I know there are wheelchair bags but this is what she prefers.
I'm off to see her tomorrow. She's having some facial surgery for a skin cancer spot. With all the horrible things involved with her neurological disorder the last thing she needs is surgery for something totally unrelated.