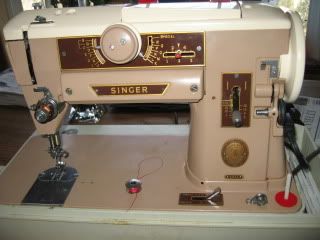 Well, it's not exactly new unless you count 1958 as being recent.

I've been looking for a heavy duty machine and this appeared in a brochure from a reputable dealer not too far (relatively) from here. I called about it and found out that it's in great shape, has a carrying case (not original since it was in a cabinet originally), a manual and several attachments included. I dealt with a nice lady who is still in the process of digging up whatever feet she can find for me. She found a walking foot and a free motion but knew there were others, namely a zipper foot, around. She'll call me. I paid $275. for it and from what I gather online it's a fair price. The thing is solid metal, totally gear driven, no belt and purrs like a kitten. I played with it for about 1/2 hour while she was dealing with other customers and after she had shown me basics. I love it and can't wait to use it. Funny, both dh and ds were very impressed and interested in it too. It has tons of built in stitches which are more than enough. I guess there were two cams but they're not with it now.
Some more shots. The model is a Singer 401A Slantomatic I asked about the Slanted foot and needle and was told it was nothing more than a sales gimmick. I'm really excited about it though.